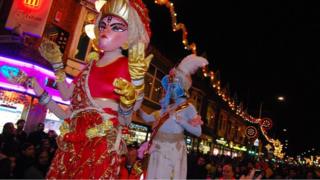 Diwali, the Hindu festival of lights, is the most popular of all the festivals from South Asia. It's also celebrated by Jains and Sikhs.
In Britain, as in India, the festival is a time to thoroughly spring-clean your home, wear new clothes and most importantly, decorate buildings with fancy lights.
The festival lasts for five days. Because of the lights, fireworks and sweets involved, it's a big favourite with children.
Guide to the festival of Diwali
How you've been celebrating?
This chat page is now closed, but here are some of the comments you've sent in.
Your comments
"I am celebrating Diwali by going to Leicester where they close the roads and there are fireworks!"
Prerna, Birmingham, England
"We put out divas (small candles) outside our home and eat loads of sweets!!"
Sareena, England
"I love Diwali; all of my family come together and set off fireworks. It's truly amazing."
Keren, England
"I celebrate Diwali by going to the temple and being with my family. I also get new clothes and eat Indian sweets."
Shankari, London, England
"We are lighting candles and putting them in each room and are going to a Hindu community centre to celebrate."
Lizzie and James, Leeds, England
"My family and I are going to light sparklers and watch an amazing firework display!"
Meena, Paris, France
"At school we learn about Diwali in R.E and we make candles out of clay. I light mine while I'm having tea."
Martha, Northampton, England
"I am celebrating by lighting candles and having some henna on my hands."
Laura, Hampshire, England
"We celebrated by doing a rangoli pattern of a flower and at night we're going to do fireworks."
Sangita, London, England
"I am making sweets with all of my family to celebrate Diwali."
Kriya, Syston, England
"I love the idea and it looks so much fun!"
Emily, Westhill, Scotland
"My school has a Diwali Festival every year. Even people that don't go to the school can come! We can also get Henna tattoos!!!"
Matilda, London, England
"I am going to the gurdwara [Sikh place of worship] to bless god. I think I'm going to wear my special clothes too and at night I'm going to do the candles because Diwali is the festival of lights."
Heeran, England
"I'm lighting candles in my home."
Olivia, London
If you send us a comment, it may be published on the Newsround website, and some comments may be used in our TV bulletins. We'll use your first name and your home town to show that it's your comment; your personal details won't be used for anything else.