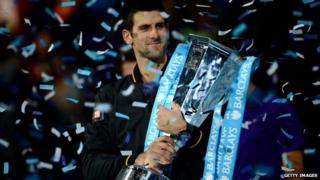 Getty Images
Novak Djokovic showed why he's the tennis world number one by beating Roger Federer in a tense match at the ATP World Tour Finals.
The Serb won 7-6 (8-6) 7-5 to add the ATP title to his Australian Open victory earlier this year.
It's the second time Djokovic has won at the ATP World Tour Finals, which sees the world's top 8 tennis players face eachother.
The champ dedicated his win to his dad, who's seriously ill at the moment.
He needed two hours and 14 minutes to take two sets in a match full of dramatic moments at London's O2 Arena.
'Thrilled'
"I was just trying to hang in there," said Djokovic.
"It's not the first time that Roger started so well against me. I've experienced before his aggression, really trying to put his mark on the match."
He added: "Whenever I needed to come up with some really good shots - really focus myself and get every ball back in the court - I did that, so I cannot be more thrilled than now."