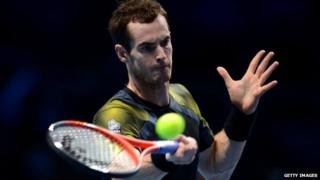 Getty Images
Andy Murray finished a memorable year by losing to Roger Federer in straight sets at the semi-final stage of the ATP World Tour Finals in London.
Federer will try for a seventh season-ending title after he beat the Scotsman 7-6 (7-5) 6-2, ending the best season of Murray's career.
In 2012 he won the US Open - his first Grand Slam - and Olympic gold, beating Federer on Wimbledon's Centre Court.
Federer will play world number one Novak Djokovic in the final.
'Incredibly hard to stop'
"I think he played well," said Murray of Federer after the match.
"I didn't think it was an incredibly high standard in terms of length of points - there were a lot of quick points.
"Once he gets ahead, he's incredibly hard to stop. He tends to play better and better when he gets up.
"I feel like I gave him that advantage at the beginning of the second set."
And reflecting on his season, Murray added: "It's been an incredibly positive year. I would have love to have finished the year on a win, of course, but that didn't happen. But for me it's been the best year of my career by a mile."