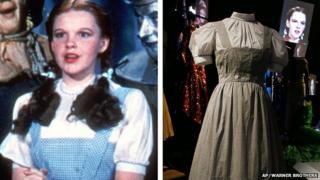 AP/Warner Brothers
A dress worn by actress Judy Garland in the Wizard of Oz film has sold for $480,000 (£302,000) at an auction in America.
The buyer of the blue and white gingham dress hasn't been named.
The auctioneers at the event in Beverley Hills said the price paid was what they had expected.
A similar dress worn during tests for the classic 1939 film fetched $910,000 (£572,500) in 2011, according to reports.
Judy Garland's dress was not the only highlight of the two-day Hollywood Icons auction.
A green floral dress worn by Julie Andrews in The Sound of Music fetched $38,400 (£24,150).
Meanwhile, $1,375 (£865) was paid each for a slice of wedding cake from both Prince William and Kate Middleton's wedding and 1981 wedding of Prince Charles and Princess Diana.