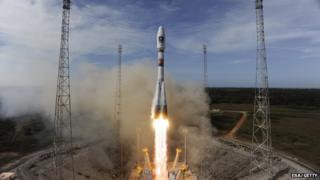 ESA/Getty
The amount of money the UK government spends on space technology is going to get bigger over the next two years.
It's hoped the extra cash will help bring hi-tech jobs to Britain.
The man who's in charge of the government's money, the Chancellor George Osborne, has announced he will be spending an extra £60 million per year on space this year and next.
He also wants to get people talking about whether the UK can lead the world in certain areas of science.
The extra money means the UK will be a bigger contributor to the European Space Agency (ESA).
The ESA was started in 1975, and is made up of 19 countries, most of which are too small to take part in big space projects on their own.
By increasing its contribution to the ESA, the hope is that the UK will get asked to do more space research and win more business deals in this area.
In his speech, George Osborne also set out other areas where the government thinks the UK can lead the world in science, including computing, robotics and farming.