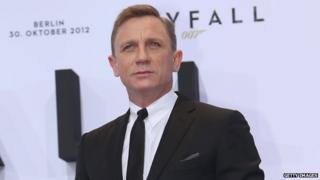 Getty Images
New James Bond film Skyfall is going sky high - it's now the UK's biggest movie of 2012 so far.
Daniel Craig's latest adventure has made £57 million from ticket sales in less than two weeks!
It's also now the biggest ever 007 movie in the UK, beating 2006's Casino Royale, which banked £55.6 million.
Up until now, the Batman movie Dark Knight Rises had been the top flick of the year.
Bond producer Barbara Broccoli said: "We are thrilled and proud to reach this box office landmark in record time and are delighted that UK audiences continue to enjoy Skyfall."
Skyfall is the 23rd James Bond movie in the 50-year franchise.