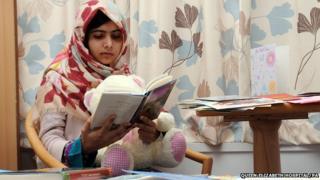 Queen Elizabeth Hospital/PA
There are calls for Malala Yousafzai, the Pakistani schoolgirl who survived a gun attack by the Taliban, to be awarded the Nobel Peace Prize.
Tens of thousands of people across the world have signed online petitions saying she deserves to be recognised.
Malala was shot after she campaigned for girls' education in Pakistan.
After the attack she was flown to a hospital in Birmingham for treatment and doctors there say she stands every chance of making a good recovery.
Thanks
Malala's father says the teenager wants to thank well-wishers for the thousands of goodwill messages from around the world.
Mr Yousafzai said: "She wants me to tell everyone how grateful she is and is amazed that men, women and children from across the world are interested in her well-being."
Events are expected to take place around the world on Saturday to mark one month since Malala was shot.
Nobel Peace Prize
The Nobel Peace Prize is given every year to a person who's judged to have made the biggest contribution to promoting peace.
Past winners include American president Barack Obama, former head of the United Nations Kofi Annan, and the former president of South Africa Nelson Mandela.