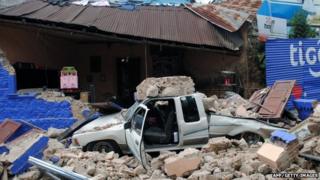 AFP/getty images
An earthquake has rocked Guatemala in central America, leaving at least 48 people dead and more missing.
The 7.4 magnitude tremor off the Pacific coast caused houses to collapse and landslides to bury roads.
Hundreds of rescuers are digging in the town of San Marcos to try and find survivors.
The country's president, Otto Perez Molina, has declared three days of mourning.
The quake affected a wide area, with damage reported in all but one of Guatemala's 22 states.
Shaking was felt as far away as Mexico City, 600 miles away.
Earthquake experts say it was the biggest tremor to hit the country since 1976.