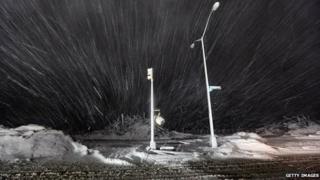 Getty Images
One week after Sandy struck the east coast of America another storm has caused big problems overnight.
Hundreds of thousands of buildings lost power and some people were forced to leave their homes for the second time.
Public transport was also affected as winds reached almost 60mph (100km/h) bringing down trees and power lines.
But the damage caused by this latest storm was less than many people had feared.
New York Mayor Michael Bloomberg said he was still worried about areas where flood defences had not yet been repaired after super-storm Sandy hit the city last week.
The Mayor closed parks, beaches and stopped outdoor building work ahead of Wednesday's bad weather.
Major airlines cancelled flights in and out of New York and New Jersey.
Super-storm Sandy
So far 95,000 people have registered for emergency housing help in New York and New Jersey after Sandy, according to the US Federal Emergency Management Agency.
The super-storm swept across the east coast of America, causing flooding, damage to buildings and killing more than 100 people.