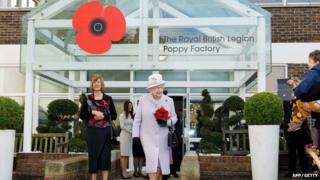 AFP/Getty
Ever wondered where our Remembrance Day poppies are made?
The Queen has made a visit to one of the original factories in Surrey as part of her Diamond Jubilee celebration visits.
The Poppy Factory has been one of the official manufacturers of the symbolic flowers for 90 years.
In 2012 alone, it has made a whopping 12 million poppies and 107,000 wreaths!
Money that the charity raises helps wounded veterans and people who were members of the forces to find jobs with UK companies.
Her Majesty even learned how to make a poppy herself.
Read Newsround's Remembrance guide to find out more, or test yourself with our Remembrance Day quiz.