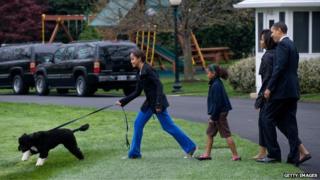 Getty Images
Four years ago, in his first victory speech, Barack Obama promised his girls they would have a new puppy in the White House - the 'First Dog' they named Bo.
On re-election the president told his daughters, Sasha and Malia, how proud he was of them.
He praised them saying they were "becoming strong, smart, beautiful women just like their mother" - but that didn't mean they were getting a second dog!
"One dog's probably enough," he said to a chuckling crowd.
Maybe they should ask for a cat this time?