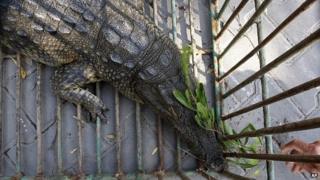 AP
A crocodile has finally been captured after escaping from a zoo in Gaza two years ago!
The reptile was discovered about two months back lurking in a sewer near the town of Umm al-Naser.
"He had a lot of spirit in him. He wanted to be free," said Lt Col Samih al-Sultan, who led the croc hunt.
A team of six policemen and fishermen drained the sewage pit before snaring the animal with shark nets.
They had spent eight hours a day for two weeks sat in a boat trying to catch the croc with fishing nets, before deciding to drain the sewer.
People had been so scared of the snapper they didn't leave their homes in the evenings. They claimed the reptile ate their ducks and goats.
"We were afraid he would eat us," said farmer Hassan Mohammed.
The creature is now living in its new home in a zoo pond with four other crocodiles.
The Gaza Strip is a narrow piece of land located on the Mediterranean coast, between Israel and Egypt.