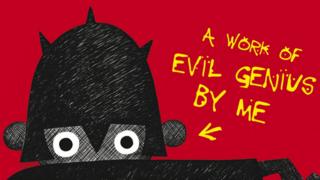 Presser
The Roald Dahl Funny Prize has been awarded to a book about a dark lord who's unwillingly transformed into a chubby teenager.
Dark Lord: Teenage Years by Jamie Thomson has been named the funniest read for seven to 14-year-olds.
Michael Rosen, chair of the judging panel, said: "This is a wonderfully absurd take on beings from another planet or another world. And like all books with this theme it makes us think about how odd and crazy we are."
The book beat competition from Britain's Got Talent judge David Walliams and Frank Cottrell Boyce, who wrote the Olympic opening ceremony.
The prize for six and under was won by My Big Shouting Day by Rebecca Patterson - a story about a toddler's tantrums.
More than 500 schoolchildren were involved in choosing the winners. They were selected to read the shortlist and pick their favourites.