It's US election day and voters across America are voting to choose their next president.
After two years of campaigning costing around $2 billion (that's £1.3 billon), the big day is finally here.
Tens of millions of Americans will decide whether to re-elect current president Barack Obama, or to hand the job to his rival Mitt Romney.
We should know who has won by Wednesday morning.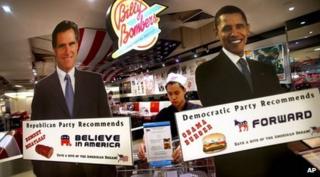 AP
America is such a big country it has nine different time zones, and voting will continue throughout the day and night.
The last votes will be be cast in Alaska, where polls close at 6am (UK time) on Wednesday.
Neck-and-neck
It's been an incredibly tight race as the campaigns have come to an end.
Early polls (where a certain number of people are asked which way they'll vote) - have put Democrat Obama and Republican Romney neck-and-neck.
But Obama managed to gain a slight lead after a last-minute push on his last day of campaigning on Monday.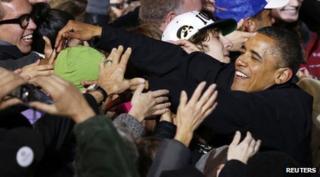 Reuters
As many as 30 million people have already had their say, with many states allowing early voting. President Obama himself voted early - the first president ever to do so.
But with a total population of more than 300 million, the number of people that actually turn up to vote today (what's known as 'voter turnout') could make all the difference.
Don't forget to check out Ricky's US election blog, and make sure you watch his special Newsround programme at 6.15pm on CBBC, on Tuesday.