Superstorm Sandy devastated the east coast of America a week ago, but things are finally returning to normal for some of those affected.
Millions of schoolchildren joined rush hour on Monday as nearly 15,000 schools reopened.
Meanwhile, thousands of animals left stranded by the hurricane are being found and returned to their owners.
There's a lot of work to be done though, with freezing temperatures and many homes still without power.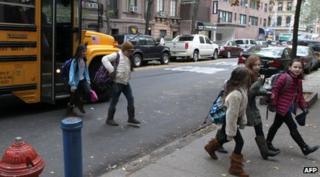 AFP
Parents in New York were relieved to see their children back in school, and even some pupils were too!
Alisson Lopez who's in the third grade (year 5) said: "I really want to learn a lot of things and I also want to know everything."
Lost pets
It wasn't just people who were badly affected by the hurricane.
Lots of families had to get out of their homes quickly, with no time to get their pets.
Since then, the American Society for the Prevention of Cruelty to Animals (ASPCA) has been searching for those lost cats and dogs.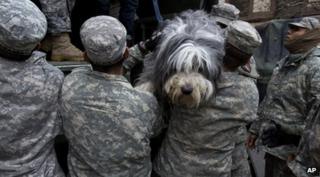 AP
The rescued animals are being taken to shelters where they're given medical treatment and, hopefully, are reunited with their owners.