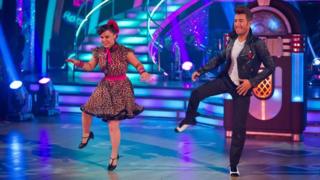 PA
X Factor fans look away now - Strictly Come Dancing has the biggest lead in the ratings over its ITV rival for six years!
Strictly soared ahead of X Factor by 2 million viewers on Saturday night.
The dance show pulled in almost 10 million viewers, with X Factor only getting just shy of 8 million.
The singing show also had 2 million fewer people watching compared with this time last year.
This is not the first time that X Factor has been seen to suffer from disappearing viewing figures - its average audience has steadily fallen by four million in the last two years.
Some think that X Factor's fall in favour started when the show's creator, Simon Cowell, stopped appearing on the series in 2010, heading to America to launch the US version.
Saturday's Strictly saw James and Denise top the leader board, whilst James Bond actor, Colin Salmon, bid the dance floor farewell on Sunday after losing in a dramatic dance-off.