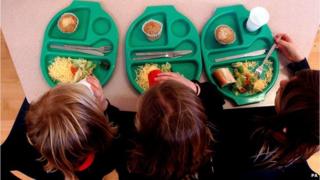 PA
Children should be made to stay in school at lunchtime to stop them buying unhealthy snacks, according to new research.
A survey asked 12,000 mums and dads what they think about school meals.
The official National School Meals report is the largest of its kind in the UK.
It found most parents think school dinners are not healthy enough.
They want rules about the quality of school dinners to apply to all schools.
At the moment, academies and free schools don't have to meet Government-set standards.
No breakfast
Three quarters of parents think children should not be allowed to leave school during to lunch, for their own safety and to stop visits to takeaway shops.
The report also said too many children are going to school hungry.
Nearly 10% of secondary school pupils are still going to lessons having had no breakfast, which can affect their concentration.