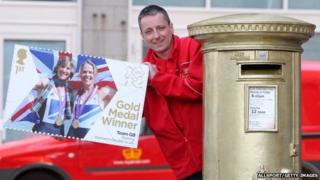 Allsport/getty images
The gold postboxes celebrating British Olympic and Paralympic champions of London 2012 are keeping their new colour!
Every time an athlete won gold over the summer, a postbox in their hometown was repainted gold.
Royal Mail said the 110 boxes across the UK will also get plaques naming the athlete and what they achieved.
It's the first time Royal Mail's red postboxes have changed colour for good.
Every GB gold medal was also marked by a special stamp.