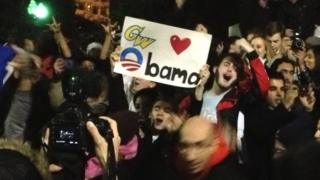 It's the home of blockbuster movies, banging music, big portions and epic elections.
The battle between US President Barack Obama and his challenger Mitt Romney has finally come to a close.
I've travelled to America to find out why the country is split between these two candidates.
We landed in Atlanta more than 24 hours behind schedule.
Our original flight was cancelled because of Sandy, the super-storm which hit the East Coast of America.
So we arrived a day late... with plenty to see and do.
We're putting Ricky's latest update at the top of the page, with the older ones below...
Day six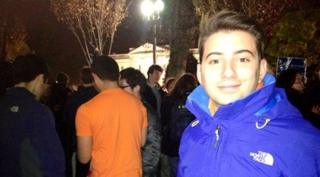 I'm standing outside the White House where thousands of Obama supporters have turned up. Cheering, smiling and chanting "four more years!"
People here are climbing trees and taking photos with their friends.
Barack Obama has been re-elected the leader of the United States of America.
Americans are waiting to hear from the president, who is currently in Chicago. I'm heading back to the BBC Washington DC studio to be with you live on CBBC.
Day five - part 2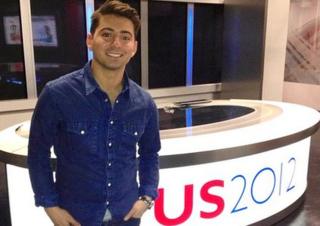 I hope you've had a chance to catch our special Newsround programme. In 'Decision Time USA' I got to meet a real range of Americans. I've spoken to first time voters, families who want a new president, and I've seen America in a new light.
Today I was live on Newsround all the way from Washington DC. The BBC has an office in the capital where journalists are busy working on special election programmes.
I managed to sneak into one of their TV studios. It's going to get really busy here over the next 24 hours when the results start coming in. I'm really excited to see what happens.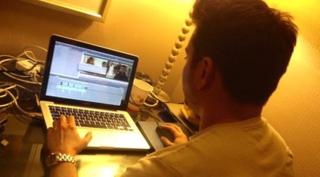 Day five - part 1
You can feel the energy in Washington DC building. The capital is busy with satellite trucks, journalists filming reports and tourists taking pictures of The White House on their mobile phones.
Millions of Americans have already voted early. Today the remainder of the country will head to the polls to cast their vote. Many will stand in line for hours to have their say.
We're 5 hours behind the UK here in Washington DC. While you've been asleep I've been editing the special Newsround programme all about the election.
Make sure you catch it on the CBBC Channel at 6.15pm.
Day four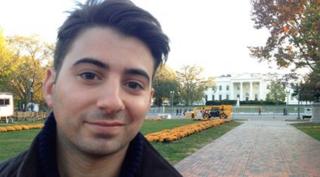 In my hotel room there's a massive picture on the wall featuring the past Presidents of the United States.
Starting with George Washington (1789-1797) all the way to George W. Bush (2001-2009).
Barack Obama's face hasn't been added yet, which got me thinking. Will President Obama be re-elected to serve another four years in the White House? Or will Mitt Romney be a new addition to this picture?
It's too close to call. The two candidates spent the weekend trying to convince voters to support them.
The ballot closes on Tuesday. I'll be in the capital to bring you all the latest.
Day three
Today, we travelled up from North Carolina to Richmond, Virginia - another long drive but very pretty, with lots of trees with orange, brown and yellow leaves.
Richmond was the capital of the South during the American Civil War. I bumped into 9 year old Hart, who told me about what he thinks of the election.
In the evening, we then drove to Washington DC, the capital of the US and that's where the rest of my updates will be from.
Day two
The roads are long and wide with small houses peppered along the way. At this time of year, the town looks like the kind of picture you would see on a postcard. Everything looks perfect. Well, almost perfect.
Look closer and you'll find empty houses, derelict factories and closed down shops.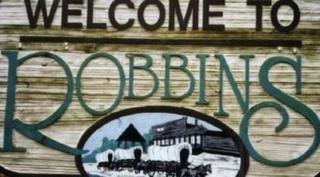 Robbins has changed a lot in the last few years. It used to rely on local cotton mills and other industries. Now they've disappeared.
Nathan and Molly were born and raised in Robbins. They showed me around their town and told me how the place they call home is slowly grinding to a halt.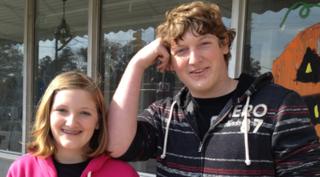 The mayor of Robbins told me a new president might make a difference to small towns across America. He feels that his hometown has been forgotten by President Obama.
So why is Robbins so important?
North Carolina is a key state in the 2012 election. The USA is made up of 50 states: some nearly always lean towards Barack Obama's party the Democrats; while others usually vote for Mitt Romney's party, the Republicans.
But there are around 9 states who can't quite make up their mind, and swing from Republican to Democrat and back again, from election to election. They're known as swing states.
North Carolina is one of those states and will be fiercely fought over by President Barack Obama and Mitt Romney.
At the moment, it looks like Obama is ahead in most of the swing states - which puts him in a strong position ahead of the election.
Day one
Now, Americans like their food. A lot. Travelling along the interstate (that's a motorway to you and me) between Atlanta and North Carolina we pass endless rows of fast food restaurants. There are logos and signs plastered all over the place and, after a while, I gave in to temptation.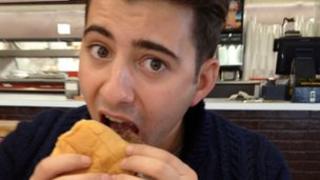 On the menu: a traditional American burger and one corn dog which is basically a deep fried sausage coated in corn. I'm going to have to hit the gym after this!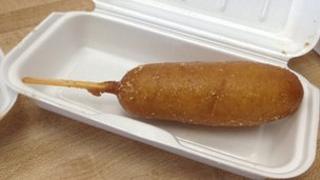 Back in the car, the DJ on the radio is telling his listeners to get out and vote. I'm amazed at how the airwaves are full of political messages from Obama and Romney, trying to convince Americans to vote for them.
Finally we arrive in Fayetteville, North Carolina, where I meet the Henry family. Mum Kelly and her four kids live near one of America's biggest military bases. Kelly's husband is in the armed forces and in the past he's been stationed in Iraq and Afghanistan.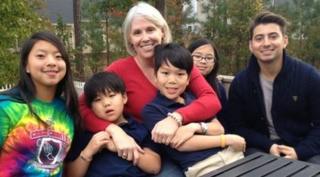 She told me that she's voted early and she's backing the Republican candidate Mitt Romney. Kelly says it was a tough choice because she voted for Obama four years ago. She believes America hasn't improved in the past four years and wants to see a different leader in charge.