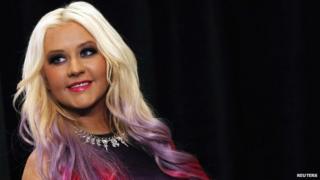 Reuters
A concert is being held on Friday to raise money for the victims of storm Sandy.
Christina Aguilera, Jon Bon Jovi, Sting and other acts will perform at the benefit concert in New York's Rockefeller Centre.
It will be shown on TV across the US and money raised will be donated to the American Red Cross.
More than 90 people were killed and many lost their homes when Sandy struck the east coast of America on Monday.
The damage caused by the storm could cost the US 50 billion dollars (31 billion pounds).
A similar concert was held after Hurricane Katrina in 2005 which raised 50 million dollars (31million pounds) for the Red Cross.