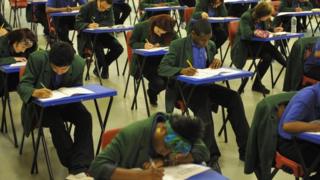 Teachers have been blamed for poor results in this year's English GCSE exams.
A report by Ofqual, who are in charge of exams, say that schools put too much pressure on pupils to get good grades and were over generous marking coursework.
Because of the high coursework marks, examiners raised the grade boundaries in the final written exam, causing lots of students to get lower grades than expected.
More than 45,000 students are having to resit their English GCSE after they complained they didn't receive the grades they deserved.
The report says pressure on schools to meet targets for grades was to blame.
Schools in England are measured on the percentage of pupils who get five A*-C GCSEs, including English and maths.
The National Union of Teachers have responded to the report, saying Ofqual are shifting the blame to teachers, when changing the grade boundaries on the exam without warning was to blame.
Ofqual says it will make sure it doesn't happen again in 2013.