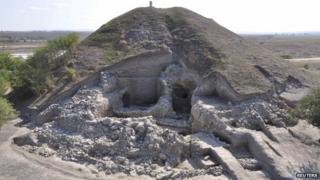 Reuters
Archaeologists believe they've discovered Europe's oldest prehistoric town.
The remains were found in Bulgaria, which is in the south east of Europe, and are thought to date back to between 4700 and 4200 BC.
That's more than 6000 years ago and about 1500 years before the ancient Greek civilisation began.
Remains of houses, a town wall and even a burial ground have been uncovered since excavations began in 2005.
The find is close to an area of salt deposits. Archaeologists believe the town's people mined for the salt because it was very valuable at the time.