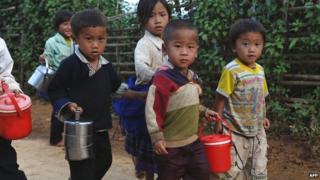 AFP
Children are the worst affected by poverty according to the children's charity, Save the Children.
In a new report, they say the gap between families who are rich and poor is at its biggest in more than twenty years.
They found that poor and wealthy children living in the same country have very different chances of survival, with more than twice the amount of poor children dying before the age of five than richer children.
Prime Minister David Cameron will hold a meeting on Thursday with the United Nations to talk about how the world should fight poverty.