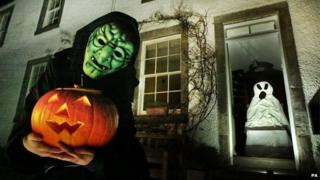 PA
The spookiest night of the year is here and we want to see some snaps of your super scary costumes.
Maybe you and your friends are all going trick or treating together?
Or perhaps you've turned your house into a witches' den?
Whether you've dressed up as a ghoulish ghost or a scary superhero let us know!
Remember - if you or your mates are in the picture we need to check it's OK with your mum and dad so please include a contact telephone number for them.
Send them into NewsroundPix@bbc.co.uk