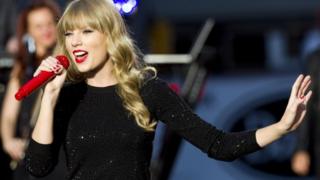 AP
Taylor Swift's new album Red has sold over a million copies in its first week of release.
It's the biggest first week sales for an album in 10 years in the US.
The record is still held by boy band 'N Sync who sold 2.4 million copies in 2000.
Swift's new album is currently number one in the UK's official album chart. With a voice like Taylor's we're not surprised!
Some people think her good sales were down to the fact that it was sold in some very unusual places.
Fans could get their hands on Red in a chain of coffee shops and from a takeaway pizza company.
Her new album includes a duet with British star Ed Sheeran called Everything Has Changed.
Earlier this week it was announced the Lego House singer would support Swift on her 58-date tour of North America.