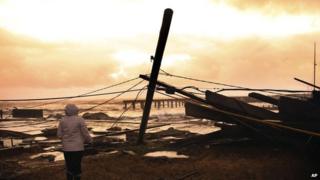 AP
People on the US east coast are trying to get things back to normal after devastating 'super-storm' Sandy.
New York subway trains are running again for the first time since Monday, as people begin to go back to work.
Sandy left more than 80 people dead, causing havoc on the US east coast.
It cut power from millions of homes and brought transport to a halt.
In New Jersey some 20,000 people remain trapped in their homes by dirty water.
Although the New York Stock Exchange has reopened, around 500 patients had to leave a hospital after back-up electricity failed.
Some tunnels remain flooded, but most airports have reopened after nearly 20,000 flights were grounded by Sandy.