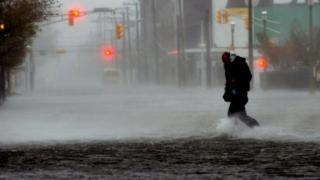 Obama - US storm 'major disaster'
Super-storm Sandy has devastated parts of America's east coast, in what US President Barack Obama has declared a "major disaster".
At least 15 people have been killed after the storm struck causing severe flooding, fires and leaving at least six million homes and business without power.
Sandy caused a record four metre surge of seawater to pour into New York City, turning roads into rivers and flooding subway and road tunnels.
One million people have been ordered to leave their homes, and an estimated 50 million are thought to be affected.