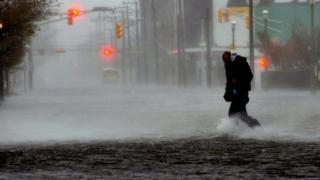 Super-storm Sandy slams eastern US
Super-storm Sandy has hit the eastern US coast, causing severe flooding and hurricane-force winds.
13 people have been killed and at least five million have been left without electricity.
Sandy caused a record 4 metre surge of seawater to pour into New York City, turning roads into rivers, flooding subway and road tunnels.
One million people have been ordered to evacuate their homes.
A New York power station exploded after water flooded into the generators.
Howard Glaser, director of operations for New York state said:
"Lower Manhattan is being covered by seawater. I am not exaggerating.
Seawater is rushing into the Battery Tunnel."
In other parts of the US the storm has brought heavy snow and severe flooding.