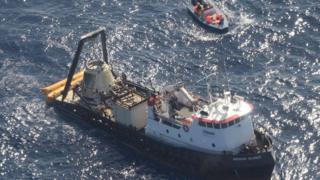 AP
The SpaceX capsule, that took supplies to astronauts on the International Space Station (ISS), has landed in the Pacific Ocean.
It returned to earth safely, near Mexico, on Sunday night.
SpaceX was the first private capsule to be hired by US space agency Nasa to travel into orbit.
It's seen as a more effective way of doing more routine, low-Earth orbit operations and the craft will now be used for further 11 missions.
The robotic Dragon ship lifted off on 7 October, with 400kg of food, clothing, experiments and spares for the astronauts on the ISS. It docked three days later.
On its return, the capsule carried broken machinery and medical samples gathered by the astronauts aboard the ISS over the course of the past year.
SpaceX's next mission is expected in January.