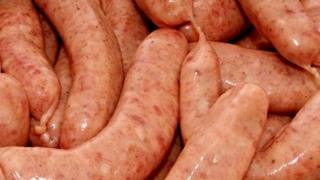 other
Sausages made in Newmarket, Suffolk, have been given a special protected status that puts them in the same groups as Parma Ham, Champagne and Melton Mowbray pork pies.
The sausages have been awarded the Protected Geographical Indication (PGI) which means that only local companies can call their produce Newmarket sausages.
The sausages have to be produced in the town of Newmarket or a very specific area nearby.
Grant Powter, from Powters Sausages in Suffolk, said it would protect the "reputation and quality" of the sausages.