US President Barack Obama has urged people preparing for Hurricane Sandy on America's East Coast to listen to officials' advice.
The storm is moving towards America's most densely populated area and could affect up to 50 million people.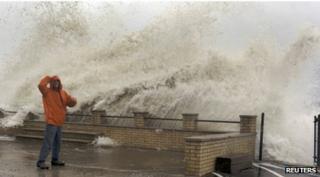 Reuters
Mr Obama said: "The most important message to the public I have right now is: 'Please listen to what your state and local officials are saying.'
"When they tell you to evacuate you need to evacuate."
He added: "This is going to be a big and powerful storm and all across the Eastern Seaboard I think everybody is taking the appropriate preparations."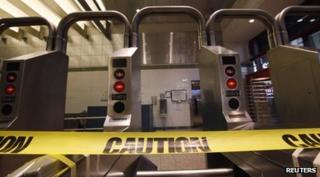 Reuters
Hundreds of thousands of people in several states have been ordered to evacuate their homes.
Many schools have been closed and more than 7,000 flights have been grounded.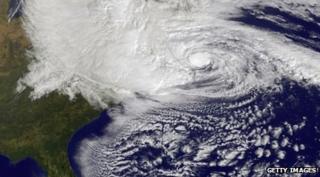 Getty Images
Hurricane Sandy is 520 miles wide and travelling at a much slower speed than other storms.
It's due to hit land on Monday evening and could become even stronger if it meets cold weather there.
Forecasters say it could cover 12 states for up to 36 hours, bringing 25cm of rain, 60cm of snow, as well as causing power cuts.
Sandy has already swept through the Caribbean, where it's left 60 people dead.