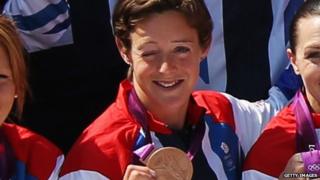 Getty Images
One of the Olympic bronze medals stolen on Wednesday night has been returned.
Hockey player Hannah Mcleod's medal was posted to the England Hockey head office in Buckinghamshire but they don't know who sent it.
Hannah's and fellow Olympian Alex Partridge's medals went missing hours after they attended a special reception at Buckingham Palace.
Alex's jacket was also taken and has been returned but police say they are still looking for his medal.