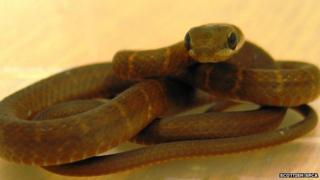 Scottish SPCA
A sneaky snake has secretly slithered its way on to a plane all the way from Mexico to Scotland!
The little snake travelled almost 5,000 miles from Cancun to Glasgow completely unnoticed.
The reptile was only spotted when the plane landed, and appeared from under one of the passenger's seats.
Animal rescuers were called in to remove the slithering stowaway, which is now being looked after at a rehoming centre in the city.
Workers there have called him Futivo which means sly in Spanish.