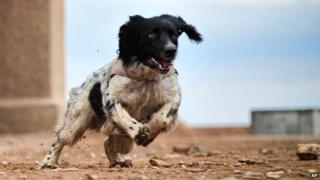 AP
Theo, a bomb-sniffing springer spaniel, has been awarded the top prize for animal bravery.
He was given the animal Victoria cross for saving soldiers' lives in Afghanistan where he worked with his handler to detect roadside bombs.
Sadly Theo and his handler Lance Corporal Liam Tasker died while on patrol in the country in 2011.
The medal was accepted by Sergeant Matthew Jones and search dog Grace, who served with Theo and his handler Lance Corporal Tasker.
Since 1943 the Dickin Medal has been awarded to animals serving with the military, police or rescue services for acts of bravery.
Pigeons, horses and cats have all been awarded the medal in the past.