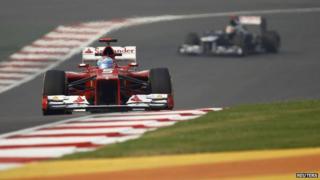 Reuters
Formula One organisers in India have been working hard to make sure there are no unwelcome visitors to Sunday's race.
Last year stray dogs ran on to the circuit during the first practice session.
Holes in the fence around the Buddh International Circuit in Delhi have been fixed to try and keep the four-legged fans out.
Teams of dogcatchers have also been brought in to ward off any animals.
Despite all of their hard work, race organisers say they can't guarantee the event will be totally animal-free.
In the area surrounding the stadium there is no shortage of stray dogs and stray cows!