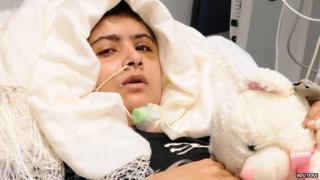 Reuters
The family of Malala Yousafzai, the 15-year-old Pakistani schoolgirl shot by the Taliban, have come to visit her in the UK.
She was shot for her role in campaigning for education for girls in the country.
He dad said it was a miracle that she had survived the attack and that he was sure she would achieve her dreams.
He and other relatives were escorted by police to see her in hospital in Birmingham.
Doctors say Malala is stable and making progress.
This week she has been able to stand again for the first time since the attack.
She's had thousands of messages of goodwill since she was shot.
She was brought to the UK last week for specialist treatment for her injuries.