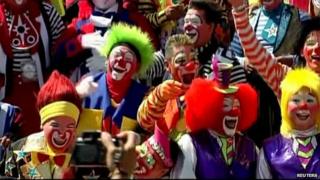 Reuters
Hundreds of clowns have gathered in Mexico City for the 17th International Clown Convention.
The men and women clowning around all came dressed up with facepaint and outfits.
This event is a chance for performers to show off their talents and share skills with each other to take home to their fans.
But it's not just a bit of fun, for many of them being a clown is their job.
Sergio Cabas who is one of the clowns at the convention said:
"Being a clown is a vocation. It's a profession. One needs to be sentimental and have a love for art. Not only for the children, but for the entire family."