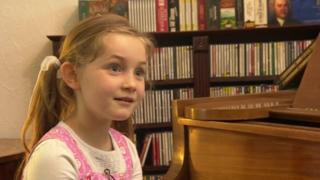 Internet hit for girl's own opera
A seven-year-old girl has written and performed her own opera on the internet.
Alma from Surrey plays the piano and the violin and wrote the music and words for the opera 'The sweeper of dreams' all on her own.
Her mum says she was interested in music from a young age.
She has had more than 450,000 hits on her website and nearly 2,000 people have signed up to follow her online.
Watch Joe's report about music stars who have made it online.