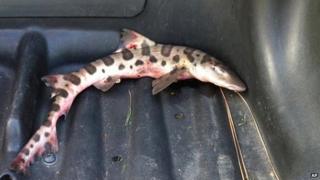 AP
Golfers in California were shocked when a shark fell from the sky in front of them.
The half-metre long leopard shark was apparently pulled from the ocean by a bird then dropped on San Juan Hills Golf Club.
Someone at the golf course rescued the fish which was still alive and took it in his golf buggy back to the sea.
At first the wounded shark did not move - but then it flipped over and swam away.