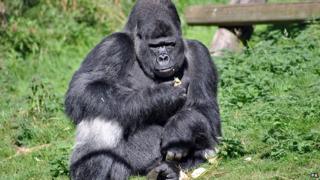 PA
A family of gorillas who have been raised in a wildlife park in Kent are to be released into the wild in Africa.
The wildlife park says the 11 gorillas are the first captive group in the world to be moved back into their natural habitat.
The animals will be moved early next year to areas where numbers of the creatures are low.
Gibbons, Javan langurs and two elephants will also be released.
Damian Aspinall from the Aspinall Foundation, who are helping with the move, said it would be the most ambitious and wide-ranging reintroduction of endangered species ever undertaken.