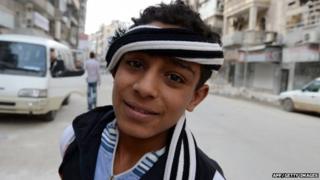 AFP/getty images
The ceasefire in Syria has been broken in several areas of the country, according to one human rights group.
The Syrian government and rebel groups had agreed to stop fighting over this weekend's Muslim holiday Eid al-Adha.
Rami Abdel Rahman, from the Syrian Observatory for Human Rights said: "The ceasefire has collapsed in several regions of Syria.
"But there is still less violence and fewer victims than usual."
United Nations (UN) official Lakhdar Brahimi had been working with the government and rebel groups to agree to stop fighting during the four-day festival.
Eid-al-Adha (the Festival of Sacrifice) remembers the Prophet Ibrahim's willingness to sacrifice his son when God ordered him to.
The conflict began in March 2011 with the uprising against President Assad.
The UN thinks that at least 20,000 people have died in the fighting.