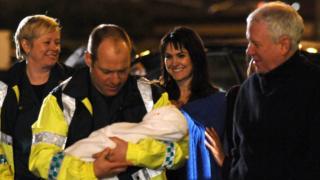 A six-year-old girl has helped her mum give birth - thanks to watching the BBC programme Casualty!
Francesca stepped in as mini-midwife when her pregnant mother suddenly went into labour in the bathroom at home in Birmingham.
She helped her mum keep calm during the birth and made sure the baby's cord wasn't wrapped around her neck.
Mum and baby Roisin were taken to hospital for the night but were both fine.
Dad was on the phone to the ambulance services when it all took place back in July.
Francesca said she knew what to do after remembering an episode of the BBC programme Casualty where a woman gave birth.