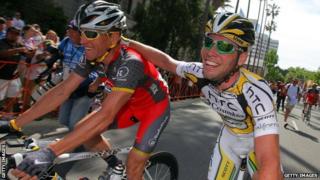 Getty Images
Cyclist Mark Cavendish says Lance Armstrong should own up to cheating to stop more damage being done to the image of cycling.
Cavendish says Armstrong and other drug cheats should confess to doping.
Cavendish described revelations about Armstrong as "frustrating" but insists cycling is one of the cleanest sports.
Armstrong has been stripped of his seven Tour de France titles and banned for life for doping offences.
Cavendish said: "If you've done something, confess."
"That anyone can damage the sport I love right now, it's frustrating."
He also defended cycling as a sport saying:
"It's narrow minded to say cycling is a sport for cheats - cycling exposes the cheats."