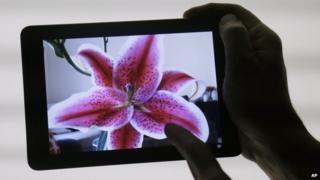 AP
As Apple unveil the iPad Mini, we take a look at some of the main rival smaller tablet devices...
Apple iPad Mini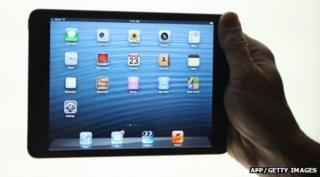 AFP/getty images
The iPad Mini is a smaller version of Apple's hugely successful iPad device. It has a 7.9 inch screen, compared to the iPad's 9.7 inches.
It boasts a front 1.2 megapixel camera and a 5 megapixel camera on the back. It'll cost £269 when released on 2 November.
Expert opinion T3 says: "We'd go as far as saying it's our favourite iPad yet. The smaller size, thinner shape and lighter weight makes for a much better mobile experience. The main sticking point, however, is price."
Amazon Kindle Fire HD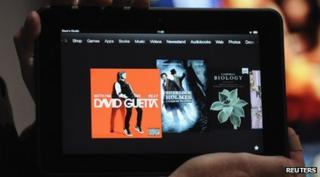 Reuters
Online retailer Amazon's Kindle Fire HD has a 7 inch screen - slightly smaller than the iPad Mini.
It's an upgrade on the Kindle Fire and is designed to work effortlessly with Amazon's massive collection of music, books and videos.
What does stand out is the price - it's much cheaper at £159. It's out on 25 October.
A larger model, with an 8.9 inch screen, has also been announced.
Expert opinion TechRadar says: "It offers a simple and uncomplicated experience through and through, and is built to support the digital media it aims to sell you, with an excellent screen."
Google Asus Nexus 7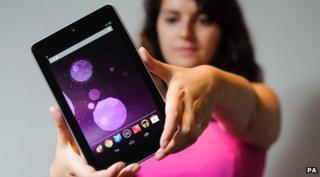 PA
Like the Amazon Kindle Fire HD, the Google Nexus 7 also has a 7 inch screen and costs £159.
It's designed to work seamlessly with all the Google products, such as Google Play, Chrome, Gmail and YouTube.
Nexus runs on the latest version of Android, Jelly Bean.
Expert opinion The Verge writes: "It's a well-designed, powerful, and useful product, with lots of bells and whistles that makes it feel like a device that should be more expensive than it is."
Samsung Galaxy Tab 2 7.0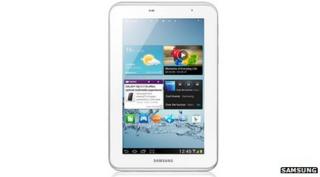 Samsung
The Samsung Galaxy Tab 2 7.0 has a 7 inch screen and is a shrunken version of the Galaxy Tab 2 10.1.
It has a 3 megapixel rear camera and a front camera for video calls.
Expert opinion The Inquirer says: "For £200 the Samsung Galaxy Tab 2 7.0 is a decent tablet. It boasts a sturdy, visually pleasing design and decent battery life. The big problem, however, is that the Galaxy Tab 2 7.0 isn't as good as Google's Nexus."