Apple launches its widely-anticipated smaller tablet, the iPad Mini, at an event in California.
The new smaller tablet is 7.9in (20.1cm), 7.2mm (0.3in) thick and weighs 0.68lbs (0.3kg).
It will cost £269 in the UK and be available on 2 November.
The iPad Mini will compete directly with cheaper similar-sized tablets recently launched by Google, Amazon, Samsung and others.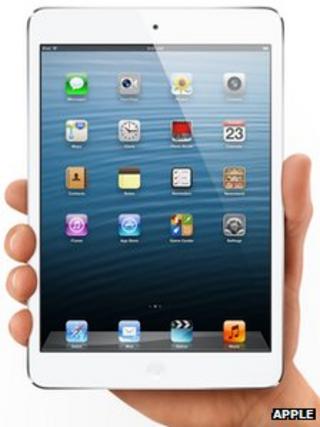 APple
Change of heart
The company's founder Steve Jobs had said that a 7in tablet would be too small but after other companies brought out smaller tablets bosses at Apple have changed their minds.
The iPad Mini will be up against Amazon's new 7in Kindle Fire HD and Google's Nexus 7 which both cost £159.