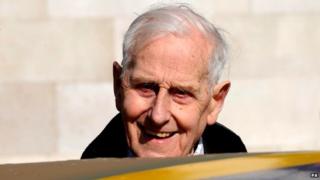 PA
William Walker the oldest surviving pilot from the Battle of Britain has died aged 99.
The Battle of Britain began between the Royal Air Force and the German Luftwaffe in the summer of 1940, at the beginning of World War II.
Despite being outnumbered by the Luftwaffe, the RAF pilots showed resilience and determination.
It was an important point in the war and prevented Germany from invading Britain.
Flight Lieutenant Walker was flying his Spitfire during the battle when he was shot down.
He landed in the Channel with a bullet in his right ankle where he clung to a shipwreck until he was rescued by a fishing boat.
William suffered a stroke and died in hospital on Sunday.