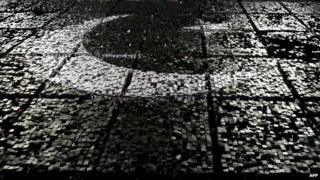 AFP
More than 24,000 young people in Pakistan have broken a world record to create the world's largest human flag.
Everybody held up green and white boxes to represent the Pakistani standard.
The flag smashed the record set five years ago, in Hong Kong, when 21,726 formed a human flag.
It wasn't the only record to be broken. On Saturday, 42,813 people in the same stadium sang the national anthem together, beating the previous record of 15,243 held by India.