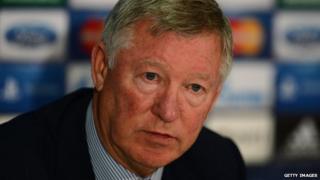 Getty Images
Sir Alex Ferguson and Rio Ferdinand have made up after a disagreement over anti racism t-shirts.
Ferguson criticised Rio Ferdinand for refusing to wear a Kick it Out t-shirt in the warm up before a match.
He did not wear it because he says not enough is being done to combat racism in the sport.
Ferguson says admits he was annoyed the defender hadn't worn the shirt but says it was just a misunderstanding.