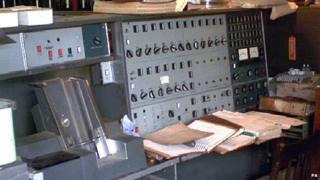 PA
One of the world's oldest computers, the ICT1301, has been booted up again fifty years after it was first made.
Two technology enthusiasts spent nine years rebuilding the machine, nicknamed Flossie, in a barn in Kent.
Flossie's nothing like your ordinary PC, she's six foot tall and is a hundred times less powerful than most smart phones.
The machine was originally used to organise exam results and print certificates.
Mr Holmes, a volunteer for the Computer Conservation Society, said:
"It is a unique piece of history. People who come to see it are so amazed by it, that computers were ever so big. It's important as it puts modern stuff in context."
Film star
This type of computer has appeared in TV and film.
The front panel from a broken-down Flossie was used as a prop for the 1974 James Bond film The Man With The Golden Gun.
It was also used in an episode of Doctor Who and on the 1970's science fiction show, Blake's 7.