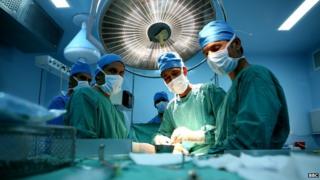 Surgeons have performed Britain's first robotic open heart operation using a £1 million robot called Da Vinci at New Cross Hospital in Wolverhampton.
The surgery was performed on Natalie Jones, 25, who had a hole in her heart.
Instruments are inserted by tiny cuts between the ribs and moved within the chest using an external panel controlled by doctors.
The robot has a miniature camera attached to it, giving surgeons a 3D, high-definition view of the heart.
Because the cuts are smaller than normal surgery patients recover quicker with fewer scars and they are less likely to get infections.
Consultant cardiac surgeon Moninder Bhabra who performed the operation said: "We are very proud to have performed Britain's first open-heart surgery using the robot."